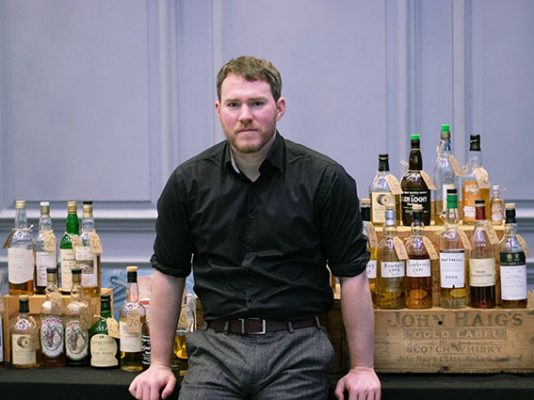 According to Angus:
Colour: white wine
Nose: the earthiness of the farmyard mingling with softer notes of wet chalk, freshly laundered fabrics, ink, wool and carbon paper. Also some lemon-scented goat cheese and more mineral aspects such as bath salts and crushed seashells. It also gets rather petrolic and displays a rising, grassy smokiness over time. Water shifts things towards brine, lemon juice, oyster sauce and things like smoked olive oil.
Palate: bags of ointment, mineral oils, pickling juices, natural tar, antiseptic and these rather Mezcal-esque touches that manifest as earthy medicines and a sort of greasy herbaceous aspect. Wonderfully green, lively, smoky and medical with some pure seawater in the mix. Water brings us full circle back this very particular earthy farmyard quality from the initial nose. Lots of sooty, muddy, earthy, peppery and oily fatness in the mouth. A wonderfully textural dram.
Finish: The peat lingers for a long time leaving in its wake a lot of medical qualities, green pepper, brine and a gentle, rather crisp smokiness.
Comments: A slightly schizophrenic wee peat monster that would have you feeling at times that you're wandering farmlands in heart of the highlands, then the next moment on the south shore of Islay, until you wind up in a particular aromatic hospital corridor. Diverse and extremely fun while also being deceptively complex.