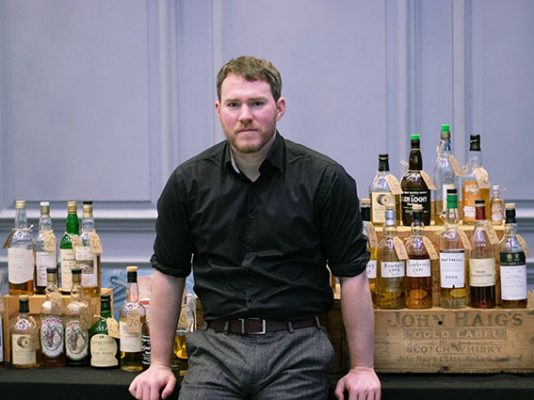 According to Angus:
Colour: gold.
Nose: pure Bunnahabhain! Wonderfully preserved freshness, breezy coastal qualities of ozone and sea air alongside sandalwood, mineral oils and citronella wax. I also find slightly salty and nutty qualities which add to the sense of body and savoury richness. Evolves more along these waxy, herbal and teaish notes that start to really make you think more of Clynelish. I have to say, I find this pretty stunning! With water: becomes softer, more inviting and aromatic. Lots of heather flowers, verbena, dried mint and even a hint of fennel. Wonderful complexity!
Palate: outstanding! A perfect balance of dried seaweed, umami paste, peppery waxes, tea tree oils, exotic fruit teas, crystalised citrus rinds and many subtle wee notes of mentholated tobaccos, cough medicines, dried herbs and liquid seasonings. A style that only time and gentle wood can create! With water: wonderfully drying, coastal, complex and still peppery, waxy, mineral and with these various notes of herbs and seasonings.
Finish: long, drying, with a twitchy salinity, peppery heat, bitter lemon notes and more soft herbal teas.
Comments: I cannot lie, I'm jealous! A reminder of just how brilliant a whisky Bunnahabhain can be, especially at this kind of age. Terrific selection Michiel!