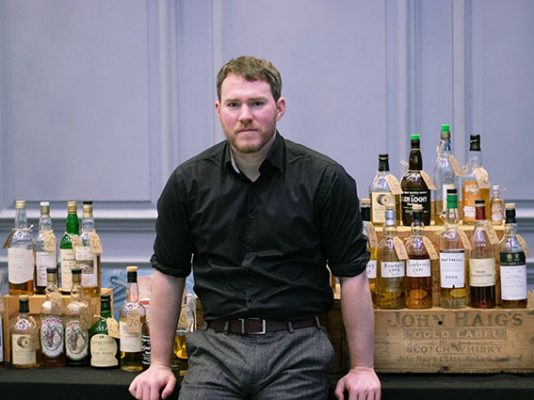 According to Angus:
Colour: coppery amber.
Nose: it's proper 'heavy' Caroni, only presented with a good deal more 'charm' than we're used to. The usual combinations of tar, salted liquorice, herbal bitters and medicines are all here, but they come across initially in a very cohesive and velvety way. There's no harshness from the alcohol to speak of, rather more you feel warmth, peppery notes, wormwood and exotic hardwood resins. With water: becomes almost coastal in terms of its freshness with a lot of focus on salt and pepper, now I'm also finding some diesel oil, mechanical rags, anchovy paste and muddled green herbs. Pretty superb!
Palate: now the real power starts to unfold, clearly the nose was decoy! Bags of natural tar extract, gentian root, bitter herbal extracts, salted Dutch liquorice, aniseed distillate, dried seaweed, Maggi liquid seasoning and eucalyptus resins. Huge, emphatic and immensely concentrated in style. Water  doesn't do much to tame this beast, but rather elevates the more mechanical aspects as on the nose. Engine grease, natural tar once again, WD40, aniseed, wintergreen and more very punchy, almost industrial strength cough medicines.
Finish: very long, tarry, peppery with perfect bitterness and immense spice now coming from the wood. A long, deeply herbal and medicinal aftertaste.
Comments: This one starts out deceptively gentle and by the end has you well and truly in an inescapable head lock. For lovers of this 'no holds barred' style of Caroni this should be top drawer stuff.